Bilingüismo
Experiencia de los Auxiliares de Conversación
JAMIE NICHOLS
I couldn't imagine spending my time here in any other place. Jaén is a beautiful region in Spain and my experience working in Peal de Becerro was extremely positive as well. I was able to work at both the high school and primary school and help in a wide-range of bilingual classes including science, music, and physical education. The students were a lot of fun and gave a great effort to speak to me in English and make me feel welcome. The teachers were also very flexible in letting me plan different activities in the classroom.
I am very grateful for the positive attitudes of the students and the support of the teachers. The students were very excited to teach me about their culture and the teachers were always willing to give me rides to and from school. Outside of school I enjoyed teaching private English classes, learning flamenco, and traveling around Andalucía during the long weekends. The Sierra de Cazorla, Segura & Las Villas is a beautiful area for hiking right next to the village of Peal de Becerro. Many weekends I went hiking or made the short trip to Granada and during longer breaks (Christmas and Easter Week) was able to travel outside of Spain. I will also never forget the many celebrations like Fería and Carnaval. This region of Spain knows how to have a good time and my experience in the school was no different!
REBEKAH GARR
Working as a language assistant here has been the experience of  a lifetime. I learned a lot and saw so much, and I can't began to imagine what my experience as a language assistant would have been like at another school. I.E.S. Almicerán may be in the small town of Peal de Becerro, but there are many things to love about working in this school.
The atmosphere of the school is very different from the U.S. or the U.K., but the students are good and love to have fun. As the language assistant here, you are able to play games, sing songs, and teach them about your culture in a different way that they will enjoy. It is a rewarding and fun job because students love to get to know you, and you are able to see their progress throughout the year.
The teachers at the school are very easy to work with and the school has a very good atmosphere. They are a young group of teachers who are very welcoming from the beginning. They are always willing to help with whatever you need, whether it is something related to your job at the school or help in your daily life in Spain.
Also, this region of Spain is absolutely beautiful. Located in north Andalucía, it is close to the biggest natural park of Spain and there are regular bus and train routes to travel throughout the country and the rest of Europe. I was able to travel and see so much with the three-day weekends.  Overall, my experience here was one that I will always remember.
I had fun teaching the students, getting to know the other teachers, traveling, and immersing myself in the sociable, welcoming culture of Spain.
If you have more questions, feel free to contact me at: rebekah.garr@gmail.com
WESLEY BEAVER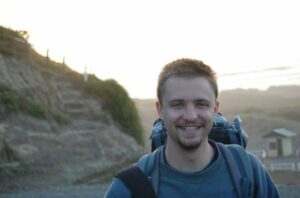 IES Almiceran is located deep within the sun-drenched rolling olive tree fields of Andalucia. The twenty minute drive to and from school every day epitomized the authenticity and uniqueness of my stay. My time at IES Almiceran in Peal de Becerro has been an incredibly rewarding experience. The opportunity to work in the heart of another culture's education system is edifying and fascinating Regardless of whether one plans on continuing their career in education, the auxiliares program, and especially the one here in Peal de Becerro, gives one insights that are priceless.
I was lucky enough to give classes to a range of age groups in a variety of subjects. The students are well- behaved and genuinely interested in you. I found this to be a breath of fresh air in comparison to my teaching experiences in the United States. Additionally I gave classes to teachers and administrators interested in improving their English skills. The diversity of teaching situations made for a dynamic and challenging eight months that I will never forget.
In all of my time at IES Almicerán I felt immensely supported by the teachers and administration. I was included in the families and social activities of the teachers for which I am extremely grateful. This program truly represents the virtues that can come from cross-cultural interaction and I highly recommend it to everyone.
TRESHIKA MELVIN
Despite IES Almicerán being located in a small town the school has a larger-than-life personality! I've had the pleasure over the past nine months to work with some beautiful people, and learn from (and teach, of course) some amazing students. Although, this was my longest amount of time away from home, and homesickness occurred quite often, whenever I walked into the classroom to the smiling, eager faces of my students, it all went away–or at least, was 95% better :). In most of your classes you will generally have autonomy over what you prepare. You can freely discuss your ideas with teachers, and can always communicate with your lead teachers to make sure the activities that you provide correspond with things students are studying in their classes.
This experience was very rewarding and insightful. The stark contrast to the public school atmosphere in the US, specifically Mississippi where I'm from, was particularly refreshing. If you're reading this, and are nervous about coming to this school in the future, don't be. Remember, the exchanging of cultures and the process of helping others better their English, and access to opportunities, is inherently beautiful. Challenges are inevitable, but you'll be in a positive & supportive environment that is conducive to you overcoming any challenge you encounter. Almicerán, and the exquisitely endearing individuals I've met here, will always have a special place in my heart.
Treshika, Auxiliar de Conversación 2013-2014
As a special note, students LOVE games and videos-creativity is key. 🙂 Also, try not to get discouraged, only motivated! If you need anything, don't hesitate to contact me at treshika.melvin@gmail.com